Book signing
"Dream It, Do It: Inspiring Stories of Dreams Come True" (Planning Communications, $16.95). Co-author and former Palm Springs resident Sharon Cook will appear at the signing, along with Connie Brady of Lake Elsinore, one of 37 people profiled in the book.
When: 1 p.m. Sunday, March 21, 2004
Where: B. Dalton Bookseller, 2010 Galleria at Tyler in Riverside.
Social worker Connie Brady of Lake Elsinore is in good company.
Brady's successes in helping neglected and abused kids is chronicled in Dream It, Do It, a new book that also includes inspirational stories about celebrities such as Tiger Woods, Gloria Estefan and Lance Armstrong.
Brady, 62, spent a year in the late 1990s working as an emergency-response team member with the Child Protective Services Agency in Riverside.
"I was involved in dangerous situations," said Brady, who accompanied police officers on drug busts to step in and help abused and neglected children in the households.
Brady said her mission stemmed from her desire to give every child the stable home life that she lacked, having been raised in an alcoholic environment.
Her story, along with those of 36 other risk-takers, appears in "Dream It, Do It." Sharon Cook, formerly of Palm Springs, and Graciela Sholander of San Diego, wrote the book.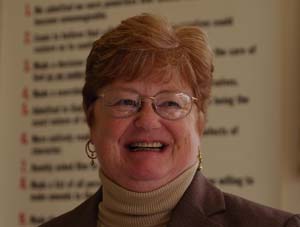 The story of social worker Connie Brady and 36 other risk-takers is chronicled in "Dream It, Do It."
Cook and Brady will appear together at a book signing at 1 p.m. Sunday at B. Dalton Bookseller in the Galleria at Tyler in Riverside.
"I feel very strongly we need to provide our youth with goal models," said Cook, who now lives in Flagstaff, Ariz. A former drug-and-alcohol counselor, she used to run a sober-living house for women.
The authors, who began their research four years ago, winnowed their stories from hundreds of interviews. "I looked around and didn't see people living to their fullest joy," Cook said. So she decided to discover what motivated successful people to commit themselves to fulfilling their dreams.
Others profiled in the book with Inland ties are Mary O'Donnell, who opened La Vista Recovery Center for women in San Jacinto; Marigold Linton, who grew up on the Morongo reservation and is now a director of American Indian Outreach at the University of Kansas in Lawrence; and Riverside-born Doug West, a professional artist who was misdiagnosed with terminal cancer.
Brady said her dream was to help others. In 1978, 17 years after taking her first college course, she received her bachelor of arts degree in criminal justice and social work, followed by a master's degree in social work.
During her career, she has worked with disabled children, women convicted of crimes, substance abusers and drunken drivers. She has also adopted four children.
Her dreams have shifted a little. She now works with recovering substance abusers in Hemet. "Dreams change, even though there may be a theme," she said. "So as they change, we have to change with them."
Reach Laurie Lucas at (909) 368-9561 or llucas@pe.com