40th Anniversary of Testimony to the U.S. House of Representatives
"But unless the action and policies called for here are adopted and implemented within the next few years, America's middle class faces an otherwise unavoidable housing disaster, the likes of which we have not seen since the Great Depression." — Daniel Lauber, AICP, written testimony March 31, 1981.
Written and oral testimony to Congress by Planning/Communications' President Daniel Lauber, AICP. explains how unbridled conversion of profitable and affordable rental housing to condominiums in the mid–1970s and early 1980s wiped out much of the nation's affordable rental housing stock by increasing the cost of living in converted units an average of 60 to 100 percent, contributing to inflation in housing costs and leading to the growing affordable housing crisis of the past 40 years. Just about everything he warned would occur has happened. And once the rest of the housing industry adopted the practices of the condominium converters, that "unavoidable housing disaster" of which he spoke arrived in the past decade. Download the complete oral and written testimony presented to the U.S. House of Representatives on March 30-31 and April 1 1981 by clicking here. (Large 78 MB file)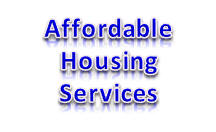 Since 1973, our staff has worked to introduce policies and practices that preserve housing affordable to people of modest incomes without and with minimal government subsidy. We have provided expert testimony to both houses of the United States Congress, state legislatures, and local governments. We have conducted workshops, seminars, and national conference sessions on real solutions to provide affordable housing, most recently for the University of Wisconsin in North Carolina, Wisconsin, and New Mexico and the 2004 national conference of the American Planning Association.
Zoning representation: We have won zoning approval for denser multi–family developments affordable to households not in the highest income categories. By applying our extensive experience winning zoning approval — and winning neighborhood support — for community residences, we can effectively represent builders of affordable housing before zoning boards and plan commissions and overcome neighborhood opposition.
We've even designed a "game" that puts public officials in the shoes of people with modest incomes who work in their communities, but cannot afford to live in them. By the end of the game, public officials openly admit that they have an affordable housing problem that they need to solve.

The two key strategies for overcoming the affordable housing crisis are keeping existing housing affordable to people of modest incomes and increasing the supply of housing — ownership and rental — that people of modest incomes can afford. The primary tools to achieve these goals are low–equity cooperatives and mutual housing associations, and inclusionary zoning.
Click here to view or download a growing array of resources on effective solutions for affordable housing, including inclusionary zoning, low–equity cooperatives, mutual housing associations, and other tools that work. Click here for news about a California appellate court decision upholding the inclusionary zoning ordinance in Napa, California.
And get the candid scoop on how condominium conversions helped created today's affordable housing crisis by eliminating much of the nation's supply of profitable private sector rental housing affordable to people of modest means.

We have provided technical assistance to many governments and organizations on how to preserve and create affordable housing.
Congressman Benjamin Rosenthal (New York) — basis for national legislation
U.S. House of Representatives, Subcommittee on Commerce, Consumer, and Monetary Affairs of the Committee on Government Operations
National Council of Senior Citizens
American Association of Retired Persons
Michigan State Senator Doug Rose
Massachusetts State Legislator John Businger
San Francisco Supervisor Harry Britt
Milwaukee County Office on Aging
District of Columbia, Corporation Counsel and aldermanic staffs
Detroit Planning Department
Chicago City Council Planning Departments: Chicago, Skokie, Rock Island, Evanston (Illinois)
Metropolitan Planning Council (Chicago)
Lane County Legal Aid Service, Eugene, Oregon
Chicago Council of Lawyers, Housing Committee
Conference on Alternative State and Local Policies (Washington, D.C.)
New Hampshire Legal Assistance Foundation (Manchester)
Seattle Tenants Union
Legal Aid Office, Northwestern University
Council of Tenant Associations of Southeastern Pennsylvania
Housing Resource Center (Chicago)
East Side Housing Action Committee (Milwaukee)
Strongforce, Inc. (Washington, D.C.)
Emergency Committee to Save Rental Housing (Washington, D.C.)
Tenants Organization of Evanston
Metropolitan Tenants Organization (Chicago)
National Tenants Union

We have presented expert testimony on the impacts of condominium conversions and how to preserve affordable housing to both the United States Senate and Housing of Representatives, as well as many local and state governments. Expert witnessing appearances include:
U.S. Senate Subcommittee on Housing and Urban Affairs, Committee on Banking, Housing, and Urban Affairs, June 28, 1979
U.S. House of Representatives Subcommittee on Commerce, Consumer, and Monetary Affairs, Committee on Government Operations, March 31, 1981. Click here for published testimony.
New Jersey Governor Bredan Byrne, Jan. 31, 1981
Milwaukee City Council, Dec. 1980
Montgomery County (Maryland), Condominium Conversion Task Force, Oct. 1979
Chicago City Council, March and Oct. 1979
Illinois Joint Legislative Study Committee, April 21, 1980, Feb. 8, 1982
Illinois House of Representatives, Subcommittee on Real Estate, Feb. 8, 1978
Skokie (Illinois) Village Board and Plan Commission, 1978
Oak Park (Illinois) Village Board and Plan Commission, 1978
Evanston (Illinois) Housing Commission, Plan Commission, City Council, 1978–1981

Daniel Lauber, AICP, has appeared on 60 Minutes, Nightline,
Good Morning America, and over 100 radio programs including
those listed below where the subject was affordable housing.
60 Minutes, March 29, 1981, CBS–TV
The Good Day Show, Boston, Massachusetts, ABC–TV
Weekend Edition, Chicago, WLS–TV
Two on Two, Chicago, WBBM–TV
Tracy in the Afternoon, WGSO (New Orleans)
Contact, and the Lee Rogers Show, WIND–AM (Chicago)
Beverly Suburban Real Estate Board (Chicago)
TRUST, Inc., Public Forum
Chicago Forum

"Bringing Sense to American Housing Policy," Keynote Address, 2005 annual conference of the National Association of Housing Cooperatives, Kansas City, KS, Sept. 15, 2005; published in Cooperative Housing Bulletin, Nov./Dec. 2005, Vol. XXI, No. 6, pp. 1, 4, 15

"Sensible and Effective Approaches to Affordable Housing," three–hour workshop presented at Planning at the Crossroads Regional Planning Conference, a nine–state conference of the American Planning Association (Oct. 13, 2004)
Faculty, "Making Real Efforts Toward Affordable Housing in Your Community," a 90–minute course for the University of Wisconsin's 32nd Annual Planning and Zoning for Community Land–Use Management conducted in Charlotte, NC; Madison, WI; and Albuquerque, NM (Spring, 2002)

American Association of Retired Persons/National Retired Teachers Association — workshops on fighting inflation in housing at NRTA–AARP National Issue Forums, Milwaukee, Wisconsin and Portland, Oregon, 1981

Metropolitan Planning Council (Chicago) — Research and presentation on use of low–equity cooperatives in District of Columbia and Montgomery County (Maryland)

44th Ward Assembly, (Chicago)
49th Ward (Chicago) Forum, (Chicago)
Rogers Park (Chicago) Community Council General Assembly
Regional Housing Study and Action Group (Chicago)
Chicago Section, American Planning Association, Debate
North Shore Interfaith Housing Council, Board of Directors
National Tenants Union Conference, speaker
National Tenants Day March on Congress, speaker, Oct. 20, 1979 (Washington, D.C.)
Illinois Public Action Council Annual Conferences,(Chicago),(Kankakee, Illinois)